It may be too early to start thinking about Christmas but, even though New Year is a little further away, it's not too early to be thinking about your New Year's Resolution. That's because, if you want it to stick, you're going to need to put in some serious preparation: a proper resolution that helps you make a powerful change is one that you think through and are well-equipped for.
This year, our top recommendation is to take up cycling to work. Maybe, since you're here at the home of some of the world's most exciting bicycle memorabilia, you already enjoy a bike ride in you down time but are yet to make the switch to using it for your commute. Or, perhaps you've stumbled upon this site while looking for gifts for cyclists that you can give to a loved one. In that case, we still think we can convert you – especially once you see the many great benefits that cycling has to offer.
In fact, we've pulled a bunch of these positive factors together in this handy little infographic, which demonstrates how cycling to work is great not only for your health, but for the planet's health too. It will also help to save you plenty of money, so next Christmas you'll be able to make your celebrations all the more extravagant. Take a look and see which benefits can convince you that it's worth getting on your bike instead of jumping in the car or heading to a bus stop. And don't forget, cycling is a lot of fun, too: and all around great way to start the day.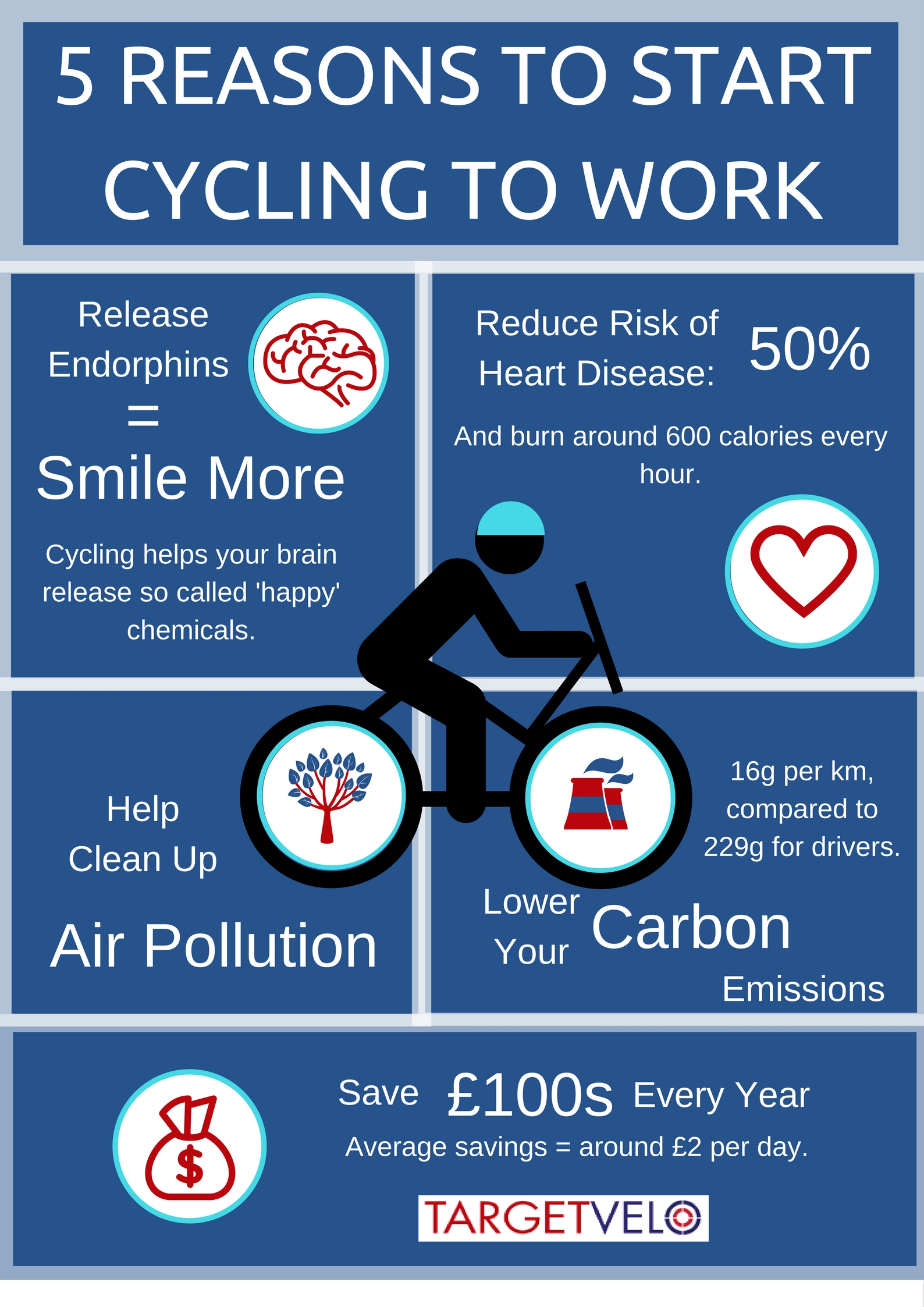 So, as we mentioned, if you decide that this is the New Year's Resolution for you then it's time to start putting the wheels in motion now (sorry…pun intended). For starters, make sure you've got yourself a well-serviced bike that's up to the terrain and distance that you'll be travelling. You also need the full safety kit: not just a helmet, but lights, reflective clothing and appropriate layers for the weather too. Working out what you need now and preparing it ahead of time means there'll be less of an excuse to bail out on a cold or rainy January morning.
Depending on the distance that you'll be commuting, you might also want to start taking smaller cycling trips as a way to build up your stamina and ensure that you're ready when the new year starts. After all, if it's a reasonably long way and you're not used to the exercise, it's probably not going to be as satisfying an experience. Along the same lines, we highly recommend doing a dummy run to check how long it's going to take, and to find out anything that you might need to know about the roads or cycling paths.
And, if you're really looking to motivate yourself then don't forget to pick up a cycling mascot from the Targetvelo store! Whether it's some cycling inspired art to help get you motivated in the mornings, or a model bike kit to serve as a reminder of your goals, these are a great way to spark off your new commitment to saving the planet (and your heart!) on the morning commute.